Print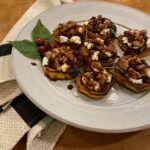 Blood Orange Sweet Potato Rounds
---
2

large, evenly shaped sweet potatoes, peeled and sliced into

1

" slices

5

T Pinehurst Olive Oil Co. Blood Orange Olive Oil

1 tsp

. Salt

½ tsp

. Paprika

Balsamic Glaze – 1 cup Pinehurst Olive Oil Co. Traditional 18-Year Balsamic

1

4 oz. log of goat cheese

1

package of dried cranberries (you will have extra leftover!)

1

package of glazed walnuts (you will have extra leftover!)

Fresh basil (about 10 leaves or so)

2

T Local Honey (We used Dees Bees, sold in store!)
---
Instructions
For balsamic glaze, bring 1 cup of Traditional Balsamic Vinegar to a gentle boil. Reduce to medium-low heat, simmer and stir occasionally for 20 minutes, or until balsamic thickens and sticks to the back of your spoon. Let cool for 15 minutes before serving.

Preheat oven to 500 degrees.

Combine Blood Orange Olive Oil, salt and paprika in a bowl. Coat each side of the sweet potato rounds and place on a parchment paper lined baking sheet.

Roast in the oven for 9 minutes, remove and flip the sweet potatoes. Return to oven and roast for an additional 7 minutes.

Transfer sweet potatoes to a serving dish. Top with basil, dried cranberries, glazed walnuts, honey, goat cheese and balsamic glaze.

Serve and enjoy!
---