Print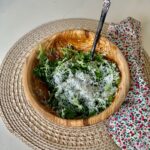 Simple and Delicious Salad
---
Minced garlic
Pinehurst Olive Oil Co. Milanese Gremolata Olive Oil
Dijon mustard
Pinehurst Olive Oil Co. Blueberry Balsamic
Salt and Pepper
Freshly shredded parmesan romano cheese
---
Instructions
This recipe will vary based on your preferences and likes!
In a bowl, add minced garlic, Dijon mustard and Milanese Gremolata Olive Oil. Stir well and mash in the garlic, making all the flavors combine well!
Add salt and pepper to taste, you can also add in Blueberry Balsamic Vinegar for a little sweeter dressing! Another option is to add some fresh lemon juice for a more citrus flavor.
Really stir and mix the dressing well, then add fresh arugula or greens of choice. Stir to coat greens evenly.
Top with fresh shredded parmesan romano cheese.
Enjoy this simple, delicious and healthy side! Add grilled chicken and make it a meal!
---