Print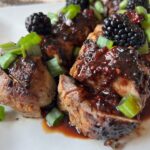 Blackberry Ginger Balsamic Tenderloin
---
For the brine:
2

1 lb. pork tenderloins, trimmed

¼ cup

Kosher salt

3 cups

warm water

2

T red wine vinegar

¼ tsp

red pepper flakes

2

T brown sugar

1 cup

ice cubes
For the Rub:
2

T Pinehurst Olive Oil Co. Persian Lime Olive Oil

2

 T Salt Sisters Blend
Blackberry Ginger Sauce
¼ cup

Hoisin sauce

¼ cup

Pinehurst Olive Oil Co. Blackberry Ginger Balsamic Vinegar

¼ cup

fresh Blackberries, mashed

1

T Pinehurst Olive Oil Co. Persian Lime Olive Oil

3

cloves of garlic, minced

2 tsp

freshly grated ginger

½ tsp

red pepper flakes

2

T red wine vinegar

¼ tsp

salt

¼ tsp

pepper
Optional Garnish of chopped green onions
---
Instructions
Preheat oven to 425 degrees.
For the brine, in a gallon sized bag dissolve the salt in warm water. Add remaining ingredients and the pork tenderloins. Brine for exactly 20 minutes.
Meanwhile, while the roast is brining, make the Blackberry Ginger Balsamic Sauce. Heat the 1 T Persian Lime Olive Oil over medium heat. Add minced garlic, ginger and crushed red pepper and sauté until fragrant. Stir in the hoisin sauce, Blackberry Ginger Balsamic, fresh Blackberries, red wine vinegar, salt and pepper. Heat until it thickens slightly, about 10 minutes.
Mix the Persian Lime Olive Oil and Salt Sisters Blend seasoning together to create a wet rub. At 20 minutes, remove the pork from the brine and evenly rub both tenderloins with the rub mixture.
Heat 1 T of Persian Lime Olive Oil in a skillet over medium high heat. When it is starting to sizzle, sear both sides of the tenderloins until they are lightly browned. This should take about 1-2 minutes each side.
Place tenderloins on a greased baking rack on a baking sheet. Brush with the Blackberry Ginger glaze and place in preheated oven. Roast for 15 minutes. Remove and brush again with the Blackberry Balsamic Sauce. Roast an additional 10-15 minutes, or until registering an internal temperature of 145-150 degrees.
Let stand for 10 minutes. Slice tenderloin and top with remaining Blackberry Balsamic glaze. Garnish with chopped green onions.
Enjoy!
---