Print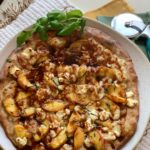 Ripe Peach & Balsamic Pizza
---
1

batch pizza dough (use your favorite recipe or

store bought dough or premade flat bread)

1 cup

Pinehurst Olive Oil Co. Peach Balsamic Vinegar

2

T Pinehurst Olive Oil Co. Tuscan Herb Olive Oil

(or Basil Olive Oil)

2 tsp Salt Sisters Charmane's Bread Dip

5 ounces fresh Mozzarella, sliced or grated

2 ounces

soft Goat Cheese, crumbled

3

Peaches, pitted and thinly sliced (we left the skin

on) *

1/4 cup

coarsely chopped Basil
---
Instructions
To prepare the balsamic reduction, pour balsamic vinegar into a small saucepan, bring to a simmer over medium-high heat. Reduce heat to medium-low, and simmer until the vinegar has reduced to 1/4 cup, about 20 minutes. Set aside and let cool.

Preheat the oven to 450 degrees F. If you have a pizza stone, preheat the stone in the oven for at least 30 minutes to allow it to get thoroughly hot.

Roll out the pizza dough and place on a pizza pan or the pizza stone. Lightly brush with 1 tablespoon of Tuscan Herb Olive Oil. Sprinkle the Charmane's Bread Dip over the crust. Place the pizza in the oven-directly on the pizza stone, if using one, or on the oven rack. Bake crust for about 10 minutes or until it's about halfway done.

Take pizza out of the oven & top with mozzarella, goat cheese, and peach slices. Lightly drizzle with additional Tuscan Herb Olive Oil.

Finish baking the pizza for an additional 8 to 10 minutes or until pizza crust is golden and cheese is melted.

Remove from oven and top with chopped basil and drizzle with Peach Balsamic reduction.

Cut into slices and serve immediately.
---
Notes
*You do not want the peaches to be too soft. You want the peaches to be sweet and slightly firm. If they are too soft, they can release excess moisture on the pizza and become mushy.