Print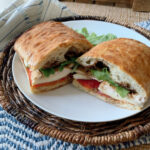 Savory Chicken on Ciabatta
---
---
Ciabatta loaf, toasted

1

jar of high quality roasted red peppers

2

chicken breasts, cut in half and pounded to thinness

1/3 cup

Pinehurst Olive Oil Co. Neapolitan Herb Balsamic Vinegar

½ cup

Pinehurst Olive Oil Co. Black Pepper Olive Oil

Fresh Mozzarella slices

1

T Tuscan Farmhouse Blend Herb

Salt and Cracked Black Pepper to taste

Arugula (Optional)
---
Instructions
Toast Ciabatta in a toaster or in the oven on Broil for 2 minutes until golden brown.

Marinate chicken with Black Pepper Olive Oil, cracked black pepper, salt and Tuscan Farmhouse blend for at least 30 minutes.

Preheat skillet over medium-high heat

Cook chicken for

Drizzle both sides of the ciabatta with Neapolitan Herb Balsamic Vinegar, and assemble sandwich with 1 piece of chicken, roasted red peppers, 1-2 slices of fresh mozzarella, and arugula. 
---