Print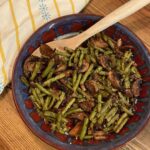 Roasted Balsamic Green Beans with Mushrooms and Parmesan
---
8 oz. mushrooms, sliced in ½ inch slices

1 lb. fresh green beans

2 T Tuscan Herb Olive Oil

1 T Traditional 18-year Balsamic Vinegar

1/2 tsp. Mama Mia's Herb Blend (We sell in store) 

2 T finely grated parmesan Cheese
---
Instructions
Preheat oven to 450F.
Line a large baking sheet with parchment paper. Wash mushrooms & let drain. While mushrooms are drying, trim ends of beans & cut beans in half so you have bite-sized pieces.  Slice mushrooms into 1/2 inch thick pieces.
Put cut beans and mushrooms into a bowl. Add Tuscan Herb Olive Oil and Traditional 18-Year Aged Balsamic Vinegar and Mama Mia Herb Blend. Stir together, making sure all the beans and mushrooms are lightly coated with the mixture. Arrange on large cookie sheet, spreading them out well so beans and mushrooms are not crowded.
Roast 20-30 minutes, starting to check for doneness after 20 minutes. Cook until beans are tender-crisp, and mushrooms are cooked. Sprinkle with finely grated Parmesan. Serve hot.
---